OSHA Doesn't Believe in THE Science
OSHA is a force to be reckoned with when it comes to employers who are responsible for protecting their employees.
OSHA has been the strong arm of Gavin Newsom and the CDC by placing Californian Employers in a box.
If you weren't suspicious about the motives of those behind the rollout before, this should be waving red flags at you. Who bought off the @OSHA_DOL? I would recommend somebody puts in a FOI request quickly. This should spark a corruption investigation.
So, if your employer (US) mandates you to have an experimental therapy they now think they can escape recording any adverse events? Looks like it's class actions then.
The Occupational Safety and Health Administration (OSHA) quietly updated its website over the weekend to adjust its policy on whether adverse effects from an employer-mandated COVID-19 vaccination should be counted as a recordable workplace injury.
On Friday, the agency's guidance released April 21st, which stated that adverse reactions from employer-mandated vaccinations are "work-related," remained in effect.
From National Law Review:
If an employer requires its employees to be vaccinated, adverse reactions to the vaccines are considered "work-related" by OSHA. Employers who require COVID-19 vaccines must notify OSHA within 24 hours of an employee's inpatient hospitalization (or within eight hours of an employee's death) resulting from an adverse reaction.

For employers subject to OSHA's recordkeeping requirements, if the adverse reaction meets other general recording criteria (e.g., days away from work, restricted work or transfer to another job, or medical treatment beyond first aid), the reaction must be recorded on the employer's OSHA 300 log, even if it does not lead to hospitalization. For example, if an employee uses a sick day because of fever and chills following administration of the vaccine, the reaction must be recorded. On the other hand, if an employee merely requires over-the-counter medication to ease soreness at the injection site, the action need not be recorded.
Here's a screengrab of OSHA's guidance from Friday, via Google's Wayback Machine:
On Saturday, however, the agency took an entirely different approach.
DOL and OSHA, as well as other federal agencies, are working diligently to encourage COVID-19 vaccinations. OSHA does not wish to have any appearance of discouraging workers from receiving COVID-19 vaccination, and also does not wish to disincentivize employers' vaccination efforts. As a result, OSHA will not enforce 29 CFR 1904's recording requirements to require any employers to record worker side effects from COVID-19 vaccination through May 2022. We will reevaluate the agency's position at that time to determine the best course of action moving forward.
Here is OSHA statement on their view of the science.
The public comments were the most interesting to hear. Public comments were in awe to hear how many did oppose the vaccine as a work condition set by OSHA guidlines. This brave gentlemen let CalOSHA know how their policies were effecting him.
Steve Kirsch, a silicon valley entrepreneur, wrote a great article about his findings when it comes to covid deaths from vaccination. Here is part of his findings.
After an initial surge, voluntary vaccination rates have hit a wall, and the powers-that-be are desperate to get things rolling again. But should they be? At this point, 73.7% of the population of over-65 Americans have been fully vaccinated against COVID-19, and 85.2% have had at least one dose. These are the most medically vulnerable to the virus, and this rate, along with seasonality and natural immunity, has resulted in plummeting death rates across the country.
These vaccines have likely killed over 25,800 Americans (which I confirmed 3 different ways) and disabled at least 1,000,000 more. And we're only halfway to the finish line. We need to PAUSE these vaccines NOW before more people are killed.
The CDC, FDA, and NIH aren't disclosing how many people have been killed or disabled from the COVID vaccines. The mainstream media isn't asking any questions; they are playing along. YouTube, Facebook, Twitter, and others are all censoring content that goes against the "perfectly safe" narrative so nobody is the wiser. Tony Fauci, the "father of COVID," is still in his job even though all of this is his fault. Cliff Lane, who reports to Tony, is still sandbagging early treatments so that people will falsely believe that the vaccine is the only option. The Democrats are still asleep at the wheel by refusing to request Fauci's unredacted emails from the NIH which will prove he covered up the fact he created the virus in the first place. Biden is clueless urging Americans to vaccinate their kids with a deadly vaccine that has likely killed more than 25,000 Americans so far. Academics in the medical community are nearly all clueless, urging people to get the safe and effective vaccine. When I tried to bring this to the attention of leading academics they told me I was wrong and not to contact them ever again. Sound too hard to believe? I don't blame you. But there is a reason that this article is the most popular article that has ever been on TrialSiteNews with over 1M views so far. It's because everything I've said is true. And nobody will debate me live about it. They all refuse.
Based on what I now know about the miniscule vaccine benefits (less than a .5% reduction in absolute risk), side effects (including death), current COVID rates, and the success rate of early treatment protocols, the answer I would give today to anyone asking me for advice as to whether to take any of the current vaccines would be, "Just say NO." Waiting for Novavax (and other traditional vaccines) is a much safer option. If you get COVID in the meantime, treating with early treatment protocols that incorporate fluvoxamine and ivermectin is vastly superior to getting the most dangerous vaccine in the last 30 years.
Vaccines are particularly contraindicated if you have already been infected with COVID or are under age 20. For these people, I would say "NO! NO! NO!"
In this article, I will explain what I have learned since I was vaccinated that totally changed my mind. You will learn how these vaccines work and the shortcuts that led to the mistakes that were made. You will understand why there are so many side effects and why these are so varied and why they usually happen within 30 days of vaccination. You will understand why kids are having heart issues (for which there is no treatment), and temporarily losing their sight, and ability to talk. You will understand why as many as 3% may be severely disabled by the vaccine. You will understand why doctors aren't reporting these as vaccine-related.
What I find deeply disturbing is the lack of transparency on how dangerous the current COVID vaccines are. Healthy people could end up dead or permanently disabled at a rate that is "off the charts" compared with any other vaccine in our history. Look at the death report in our government's official Vaccine Adverse Event Reporting System (VAERS) summarized in the tweet below. This is the most deadly vaccine we've ever made by a long shot. That's why they have to give you incentives to get vaccinated. They need to vaccinate everyone BEFORE people read this article or watch this video of Dr. Peter McCullough explaining clearly why the current COVID vaccines are unsafe and completely unnecessary for our children.
The stopping condition of a typical vaccine is 25-50 deaths. But there isn't a stopping condition for this vaccine! It appears we've killed over 25,800 people (based on CDC "unexplained deaths") and nobody is batting an eye. The CDC is focused on how to vaccinate more people. Clinics today report as high as a 10:1 ratio of vaccine-related cases to COVID cases. So now we have a new health emergency: deaths and disability from the vaccines.
But this is just the beginning of our story. We have a lot of ground to cover. I'll talk about Fauci, NIAID, CDC, Congress, academia, Cliff Lane, and more. I will close with action items you can take and how to treat vaccine victims.
Before we jump into the details, here are some key points:
At least 25,000 deaths from the vaccine. The OpenVAERS team think it is over 20,000 due to under reporting. But we looked at the CMS database and it appears VAERS is under-reporting by 5X. And the CDC excess unexplained deaths are 25,000 as well. It matches up.
NOBODY will debate me. People resort to personal attacks because they can't attack the facts. But nobody who counts (e.g., over 10K Twitter followers) will debate me. I've tried everything. People are too afraid I'll win. If you have at least 10K Twitter followers and agree to a recorded live Zoom debate, just say so in the comments below.
Biodistribution data shows massive accumulation in ovaries of the LNP (which instructs cells in ovaries to sprout toxic spike protein). Whoops. That was never supposed to be leaked out. We obtained it via FOIA request. The CDC never told you about that one, did they? Of course not!
82% miscarriage rate in first 20 weeks (10% is the normal rate). It is baffling that the CDC says the vaccine is safe for pregnant women when it is so clear that this is not the case. For example, one our family friends is a victim of this. She miscarried at 25 weeks and is having a D&C on 6/9/21. She had her first shot 7 weeks ago, and her second shot 4 weeks ago. The baby had severe bleeding of the brain and other disfigurements. Her gynecologist had never seen anything like that before in her life. They called in a specialist who said it was probably a genetic defect (because everyone buys into the narrative that the vaccine is safe it is always ruled out as a possible cause). No VAERS report. No CDC report. Yet the doctors I've talked to say that it is over 99% certain it was the vaccine. The family doesn't want an autopsy for fear that their daughter will find out it was the vaccine. This is a perfect example of how these horrible side effects just never get reported anywhere.
25X the possibility of myocarditis for teen boys (can lead to heart failure and death)
Kids already have natural immunity (Science Magazine article), so there is no benefit to vaccination, only risk. Have you ever seen the risk / benefit analysis by the CDC?? Ask for it before you consent.
No point vaccinating those who've had COVID-19: Findings of Cleveland Clinic study. No benefit, only risk.
Doctors who attribute adverse events to the vaccine are punished (such as Dr. Hoffe). So under reporting is incentivized.
The CDC refuses to say how many people have died and is "still investigating" heart damage in kids even though it is obvious why (free spike protein causing clotting and inflammation). A 25X increase when the only "new" thing is the vaccine isn't hard to figure out. Ask the CDC for their current top 5 hypotheses for the cause. It will be more than amusing to see what they say. If it isn't the vaccine, heads should roll.
The CDC is deliberately misleading the American people. Check out the side effects page. Death, disability, excessive miscarriage rates, heart attacks, stroke, inability to walk, talk, or see, Bell's Palsy, persistent pain, Parkinson's like symptoms, re-activation of shingles, blood clots, etc. are all missing.
>500X more deadly than the flu vaccine
COVID vaccines have generated more adverse reports in the last 6 months than all 70 vaccines over the past 30 years combined. They missed that one.
Defective virus design (s1 was never supposed to be free, inclusion of PEG was unnecessary and allows LNP to be widely distributed)
Strong opposition to vaccination by extremely credible voices like Malone, Geert Vanden Bossche, others
NIAID (Cliff Lane) is improperly manipulating the COVID Treatment Guidelines to make it appear these drugs do not work, thus giving the world the false impression that the vaccine, even if imperfect, is the only way out. Ivermectin and fluvoxamine have been confirmed in Phase 3 trials. Ivermectin has a very high quality systematic review, the highest possible level in Evidence Based Medicine. Repurposed drugs are safer and more effective than the current vaccines. In general, early treatment with an effective protocols reduce your risk of dying by more than 100X so instead of 600,000 deaths, we'd have fewer than 6,000 deaths. NOTE: The vaccine has already killed over 6,000 people and that's from the vaccine alone (and doesn't count any breakthrough deaths).
Vaccines skipped proper toxicology studies in order to bring to market faster. We don't know what we don't know.
The unpredictable and horrifying side effects of this vaccine on heathy kids, such as the 16 year old girl who was unable to speak and see just 48 hours after being vaccinated
Debilitating side effects can happen at any time because vaccine victims are very similar to COVID long haulers (Dr. Bruce Patterson has discovered this) and we all know that long haul can start at any time (even when the disease is asymptomatic) and could be incurable.
Because the vaccine is not perfectly safe, the government is required by law to warn people of the death and disability risks caused by the vaccine and to obtain informed consent. Always be sure to ask for the 50 most serious side effects and how often they happen. And find out whether they will compensate you if you are disabled for life from the vaccine. This is important because the blood clots can form anywhere with this very unsafe vaccine.
Note: this is a large document and different sections were written at different times so you may find that the numbers may be inconsistent. If you spot an error, please use the comments to point it out.
If you enjoyed reading this article, please follow me on Twitter at @stkirsch so I can keep you apprised of how this story progresses. The more followers I have, the less likely they will ignore my requests for informed consent and data transparency. Also, please share with your friends on social media. Thanks!
New research shows why we should not vaccinate kids
Will we listen to the SCIENCE? Or will will follow the Biden, CDC, NIH narrative blindly? Time to decide.
In other words, science says that kids are essentially already vaccinated. So giving them a dangerous vaccine has virtually no benefit but significant downsides (like death).
But the academics are too vested in the false narrative to let one study take them down. I predict they will ignore the science and try to discredit it. That's exactly what they've done with fluvoxamine and ivermectin even though all those studies were published in peer reviewed journals too. They are good at suppressing science and convincing the masses that the vaccine is needed and safe, regardless of the actual facts. They believe the Phase 3 studies and consider real world events as anecdotal.
Here's the third item I need you to see. This is the biodistribution graph created from the Pfizer data obtained via Byram Bridle FOIA request to help you visualize where the vaccine is going in your child's body. This shows you the the sites where it cranks out the toxic spike protein; the higher the line, the greater the production of spike protein that can cause damage to blood vessels and cause inflammation.
NOTE: There are areas of the body that are not included here like the injection site (165), liver (24), spleen (23), and adrenals (18). These were not included so you can see more detail. The graph ends at 48 hours because that is the extent of the data provided in the original Pfizer study. The mRNA is basically mostly gone after 48 hours which is why it ends there. I did not commission this slide; it was created by PANDA.
Here's the chart with all the data (excluding the injection site). As you can see, the ovaries and bone marrow still show up prominently:
Here's what this means. This vaccine seeks out your daughter's ovaries and instructs the cells in the ovaries to turn out a very toxic spike protein. It also goes to your child's brain, heart, and other critical organs. This can cause deafness, blindness, inability to speak, myocarditis, pericarditis, and more at unacceptable rates. It may permanently damage your child's reproductive system. We just don't know. Would you like to volunteer your child for a clinical trial so we can find out? Well if so, and if your child concurs, then get vaccinated and be part of the largest experiment ever done on the human reproductive system.
OK, let's recap what we've learned so far, because there is a lot more to talk about. I am just getting started.
The destruction we are doing to our kid's hearts, brains and especially their ovaries. We are harming perfectly healthy young adults. For example, the miscarriage rates are alarming post vaccination: 82% spontaneous abortion rate before 20 weeks.
Approximately 2% of people report severe / still annoying side effects based on the random sampling I've done. This number is extremely high but it totally explains why the "Vaccine Side Effects" groups in Facebook had over 200,000 members before Facebook deleted them. There are much better options where no healthy person has any added risk of death or disability (since they will not need to be treated at all).
The government has been suppressing the fact that repurposed drugs work with virtually 100% success when given early with virtually zero side effects. So the better, safer alternative is considered "unproven" when Cliff Lane (head of the NIH COVID Guidelines who reports to Tony Fauci) knows without a doubt that it works.
Sound like a conspiracy theory? I don't blame you. I don't think there is a conspiracy (except for a select few such as those called out in Chris Martenson's excellent video on the coverup happening after the outbreak). I have no issues with anyone at Moderna or Pfizer or any government agency (again with the exception of Tony Fauci and Cliff Lane and a handful of others who were in on it and aren't talking). I think everyone else are all ethical people who started with the best intentions, shit happened, and now people don't want to see the reality because of the cognitive dissonance it would create. So the CDC and FDA ignore all the subjective safety signals (like alarming anecdotal reports from doctors) and rely on what I believe (based on info from CDC insiders) is a flawed serious event warning system (combined with pressure not to report that there is anything wrong). Hence everyone is acting like there is nothing wrong because their traditional alarm bells aren't triggering. A 25X higher event rate for myocarditis after vaccination… oh, completely normal. They justify that because they think that the vaccine is so helpful (a 10X reduction in cases) that even if there is death caused by the vaccine, society is better off net net. So they support the false narrative that the vaccine is safe. And none of them realize that early treatment of COVID is way better and safer since Fauci and Lane suppress the better option.
For example, why is Monica Gandhi calling for vaccinating kids including her own? Is she evil? Of course not! I asked her for the risk benefit calculation in this tweet. Will she reply? I doubt it. Most of the doctors who swallow the false narrative find it difficult to deal with the facts.
Also, let me point out that in this document I link to a number of sources, some of whom tout conspiracy theories like this is being done deliberately for nefarious purposes. I absolutely don't believe that. If I include a reference to someone else's material I do not endorse any conspiracy theories that are espoused by them. I will make one exception for Chris Martenson. All of his YouTube material I have watched of his work is all top notch, well done, and well supported. Watch this video of Dr. Chris Martenson taking down Fauci's original Senate testimony. It is priceless. Chris mentions my work at 47:30. It's hard to argue with his conspiracy theories.
Still, it's a bit hard to explain why they aren't at least warning the public that the vaccine is the deadliest vaccine ever and has an extremely high incidence of death and long-term disability. There is absolutely no excuse for hiding that. Health authorities have a responsibility to report that and they aren't telling the real numbers to anyone.
To figure out the truth, all you have to do is realize one important thing: there isn't any transparency here on the numbers. I called my local pharmacy to see if the pharmacist knew the death and disability rates. Nope. No clue. We are so brainwashed into believing the narrative that the vaccine is safe that nobody even asks the question: "So, exactly how many people have been killed or severely disabled from the vaccine?" There's a reason for that lack of transparency: the CDC has no clue what the numbers really are (the VAERS numbers are a lower bound and could be off by as much as 100x). Nobody will tell me either (and believe me I'm persistent). That alone should be frightening.
Not only won't they tell us the numbers, but they aren't answering any questions either: nobody is willing to debate me on the issues raised in this article in a public forum. Nobody from the government will. None of the docs on Clubhouse who promote the false narrative will either. If they did, they will be exposed as promoting false info and would lose their followers. Here's proof they are chicken: my Twitter post challenging them all to a debate in front of all their followers.
Now reaching summer of 2021, the delta variant has become the most recent cause célèbre among the purveyors of panic.
Many are describing it as more contagious AND more deadly like so many other claims about the original covid-19 strain.
one might even go so far as to say that the delta variant, at least thus far, looks to be an extremely good sign and is cause for confidence, not concern.

it's more contagious, but also has a 96.4% lower CFR than historical variants.

its CFR is in line with a very mild flu or a common cold.

contrary to widespread claims, it looks more like inoculation than devastation.
surprising no one, the NYT is leading the charge on "be afraid." but should we be? this chart alone starts looking like it flat out refutes at least half their claims.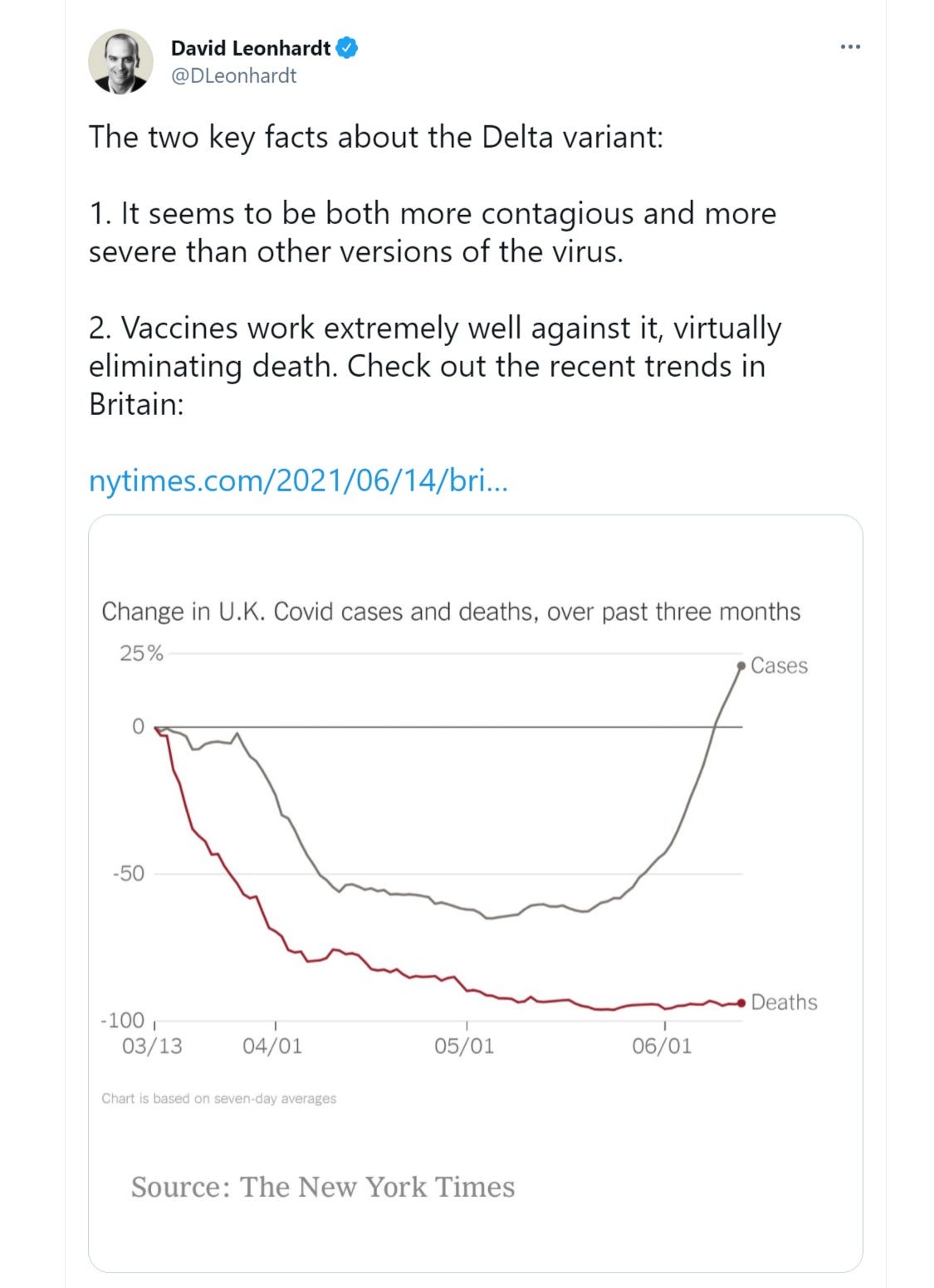 it's also quite a misleading manner in which to present this. let's see if we can do a bit better:
cases are WAY down from january, but are ticking up. BUT, deaths are going nowhere. the case rise dates back 3 weeks, so this is right about where we should expect to see deaths begin to rise as well. that will warrant watching. BUT, as many long-term readers will recall, case data without reference to testing levels can be EXTREMELY misleading. i think it's misleading us here.
as a proxy for the testing level adjusted rate we can use the % positivity of test results. this will not give us absolute numbers, but it will give us better directionality and YoY comparability. as even a cursory look demonstrates, it does not support notions that delta variant is causing cases to run out of control. it actually, thus far, shows the opposite.
not only does it remain extremely low at 0.60%, but that positivity rate is WAY below the EU avg, US avg, (both above 2%) and, perhaps most telling, the same date last year in the UK which was 1.10%.
positivity is 45% lower in the UK than same date last year (using 7DMA from june 8th, most recent available in THIS dataset).
that is not consistent with some new supervariant making cases run out of control. it's consistent with massive disease burnout and community immunity. it is, thus far, confirmed by the deaths figures.
the question then arises, "will it stay that way?" the odds-on bet would seem to be "yes, especially if the delta variant becomes dominant."
that's because it looks like the delta variant has a CFR more than 95% lower than other variants.
this is entirely in keeping with basic biological and epidemiological prediction and expectation. a virus is not some evil foe seeking to maximize harm, it's a set of biological instructions trying to self-replicate. harming hosts is maladaptive. the evolutionary gradient of a virus as it becomes endemic is to be more contagious and less harmful. ideally, it would pose no harm or, as many bacteria have managed, to become outright beneficial.
a virus becoming more contagious in the late stages of a pandemic is the base case prediction.
a virus becoming less harmful in the late stages of a pandemic is also the base case assumption.
claims to the contrary are an extraordinary contradiction of historical data and biological imperative. such claims would seem to require extraordinary evidence and it is not present here. the evidence supports the base case:
the delta variant looks somewhat more contagious and dramatically less dangerous.
this data comes straight from the UK variants of concern reporting. (dated 11 june 2021).
look at the CFR figures. 0.1% vs 1.9% for alpha 1.4% for beta, 1.9% for zeta, and 2.8% overall historical CFR for cumulative covid in the UK. (calculated using the cumulative counts from our world in data dataset)
based on historical:
0.1%/2.8% = 0.036 = 1/28th as deadly
this is a 96.4% drop in CFR.
0.1% is more than 75% lower than most flu variants.
this is not a CFR over which you close a country, it's one that provides no pretext whatsoever to impose any mitigation at all beyond "please stay home if you feel ill."
we know this because we have a thing called "human history." no one locks down a country for an extremely mild flu. no one. nowhere. not ever.
and based on the CFR data from the UK so far (based on deaths from oct 2020 to june 2021) the delta variant has a CFR akin to a very mild flu. i've seen no data to suggest otherwise (but am open to some if people have it) nor are we seeing hospitalization spikes etc.
it does seem to have a higher secondary attack rate than other variants, which, again, aligns with evolutionary and virologic expectation. more spread, less harm.
this is exactly what late stage endemic virus looks like.
it is, in fact, what you WANT it to look like.
It's what makes a pandemic end. you cannot eradicate a virus. covid zero is a ridiculous and impossible task. but having the virus shift to a variant that spreads faster and poses so little risk is the next best thing.
You WANT delta to be all over the place. you want it to be the one that goes endemic. if, indeed, it winds up to be far lower risk than flu, then this is well and truly over.
Thus far, this is where all the evidence points.
Delta is a source of very low risk community immunity relative to past variants and massively shifts an cost/benefit analysis if it becomes dominant. (not that the UK seems to care about such things)
Anyone using this variant as a pretext to delay opening does not appear to be "on the side of science". it's just not warranted. this is the expected late stage behavior of a pandemic ending and a virus going safely endemic.
It means this is just about over. delta spreads better and is 1/28th the CFR. having it become dominant renders covid about as dangerous as a common cold.
CalOSHA needs to re evaluate who they are getting their data from. They have set policies based on CDC and Gavin Newsom illegal emergency order's. At this point CalOSHA is violating constitutional laws and negligence of not looking at real data that could effect the future for many Californians.