From this article from the Gateway Pundit,
Dr. Robert Malone, M.D., M.S.,, a distinguished physician who discovered RNA transfection and invented mRNA vaccines, was on Steve Bannon's War Room Weednesday with some alarming news–new data indicates that people who have taken the Pfizer and Moderna vaccines are at greater risk of getting Covid than someone who is not vaccinated.
Before you watch the video, you need to understand the term–Antibody-Dependent Enhancement aka ADE:
Antibody-dependent enhancement (ADE), sometimes less precisely called immune enhancement or disease enhancement, is a phenomenon in which binding of a virus to suboptimal antibodies enhances its entry into host cells, followed by its replication.[1][2] ADE may cause enhanced respiratory disease and acute lung injury after respiratory virus infection (ERD) with symptoms of monocytic infiltration and an excess of eosinophils in respiratory tract.[3] ADE along with type 2 T helper cell-dependent mechanisms may contribute to a development of the vaccine associated disease enhancement (VADE), which is not limited to respiratory disease.
New data suggests that fully vaccinated individuals are not just contracting COVID, but could be carrying higher levels of virus than previously understood, facilitating spread, my NBC News colleagues are reporting. New indoor masking guidance expected today.
Dr. Malone has warned of this risk for several months. What are we to do? Malone says that instead of relying on the flawed vaccines, Doctors should use drugs for treating Covid that have proved effective, such as Ivermectin (more about that following the video), is neutralizing Covid:
What should scare the hell out of you is the extraordinary efforts being taken to silence and discredit Dr. Malone. I encourage you to read Michael Haynes piece from July 5, which details Malone's Kafkaesque ordeal. Here are some relevant paragraphs from his article:
Information about the inventor of the mRNA technology used in certain COVID-19 vaccines was removed from the online encyclopedia site Wikipedia after he publicly warned against giving the experimental gene therapy vaccines to young people and that there was insufficient information about the injections to give informed consent. . . .

On June 10, 2021, Dr. Malone joined biologist Bret Weinstein, Ph.D, on the Dark Horse Podcast, where Malone raised numerous safety concerns about the Pfizer-BioNTech and Moderna COVID-19 vaccines, both of which use mRNA technology. He warned about future autoimmune issues caused by the spike proteins within the mRNA injections.

Malone also stated that the Food and Drug Administration (FDA) was aware that the spike proteins were "biologically active and could travel from the injection site and cause adverse events, and that the spike protein, if biologically active, is very dangerous."

YouTube swiftly moved to censor clips from the three-hour podcast interview.
In a later article that mentions Dr. Malone appearing on Fox News' Tucker Carlson Tonight some days later, Dr. Malone issued further warnings about the vaccines, the content of which is contrary to the mainstream media's promotion of the injections. The mRNA inventor declared that there was still insufficient data for anyone to make an informed decision about receiving the vaccines.  
Malone also warned against the injections being given to young people: "I have a bias that the benefits probably don't outweigh the risks in that cohort. But, unfortunately, the risk-benefit analysis is not being done."
Carlson described Malone as being perhaps "the single most qualified person on planet earth to discuss this subject" given his status as the inventor of the technology behind the injections now being rolled out, and in some cases mandated, to people across the globe.
However, Malone was not targeted merely by YouTube. Just days after the Dark Horse Podcast was released, the Wikipedia entry for "RNA vaccine" was changed, removing him and his role from the article, and thus potentially removing the weight that his warnings about the technology might convey.
An archived version of the site from June 14, 2021, clearly lists Malone as the creator and initial researcher into the technology.
Just two days later, June 16, the site was altered to remove any mention of Dr. Malone in the text of the entry. Instead of detailing his exploits, the entry now states that mRNA technology was discovered by "researchers at the Salk Institute, the University of California, San Diego, and Vical."
The site was to undergo yet another change, and at the time of writing (July 5), the entry had undergone another substantial alteration, this time mentioning Jon Wolff, a collaborator of Malone's in 1990, and giving him chief credit for the mRNA research experiments.
Furthermore, the current Wikipedia entry now lists Katalin Karikó as "a scientist behind a key discovery in the development of mRNA vaccines." As noted by commentators on YouTube, Karikó is, unlike Dr. Malone, a public proponent of the experimental vaccines, commenting to The Guardian in November 2020 on the mRNA vaccine: "I never doubted it would work."
The 66-year-old biochemist is currently the senior vice president at BioNTech RNA Pharmaceuticals, having been in the position since 2013, and is the head of RNA protein replacement therapies. BioNTech is partnered with Pfizer in developing, producing and distributing the hastily developed, experimental COVID-19 injection.
A marked difference in tone toward the COVID-19 injections can be noticed between Dr. Malone and Karikó. While Malone warned that no one had sufficient information to be able to make an informed decision about taking the vaccine, Karikó hailed mRNA as a potential "a universal platform" for future drugs.
Meanwhile, the number of adverse reactions and deaths occurring after the COVID-19 injections continues to mount. The Defender reported that the latest data from the U.S. Centers for Disease Control and Prevention now numbers 411,931 total adverse events after the COVID-19 injection, including 6,985 deaths and 34,065 serious injury reports.
Of that number, VAERS noted that there are 186,196 adverse events for the Pfizer/BioNTech injection, with 2,403 deaths and 16,139 serious events.
Wikipedia has faced criticism for being "a provider of inaccuracy and bias," according to Joseph Farah, CEO and editor-in-chief of WorldNetDaily (WND). Farah noted that his own bio page was full of inaccuracies, libels, out-of-date information, and puerile insults.
So much has the website become a proponent of left-wing "propaganda" that Wikipedia's co-founder Larry Sanger is attempting to launch an alternative. He stated that the site "completely ignores any conservative, libertarian, or critical treatment of the subject."
While the platform did not begin with a left-leaning bias, Sanger explained that a decade ago "as liberals, or leftists made their march through the institutions, Wikipedia became one of those influential institutions. They started their march and basically took it over."
This is the kind of authoritarian censorship carried out by Adolf Hitler, Josef Stalin and Pol Pot. When the media and the Government conspire to quash dissenting opinions and legitimate, provable facts, we have crossed the threshold of fascism.
The same effort to discredit Dr. Malone also has been unleashed against non-vaccine treatment methods. Remember what happened to anyone who dared suggest using Hydroxychloroquine or Ivermectin?
And do you remember the news stories in May about how Covid was devastating India? I bet you have heard little about the efficacy of Ivermectin in stopping Covid in Dehli.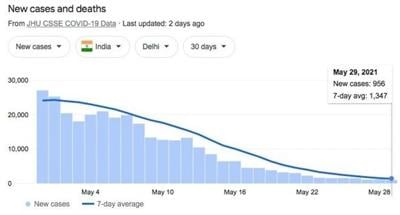 Dr. Pierre Kory told the world on December 8, 2020, that Ivermectin "obliterates" this virus. Obliterate means to decimate, demolish, or annihilate. It means to eliminate or destroy all trace, indication, or significance.

This graph shows that Ivermectin, used in Delhi beginning April 20, obliterated their COVID crisis. No one should be able to talk you out of this – not a salesman, a drug company, a television celebrity doc, and certainly not the top doctor for the WHO or the NIH who is paid to do that.
India has now conducted a study of anti body immunity.
1: NATURAL IMMUNITY FOR THE WIN YET AGAIN. Staggering data from India: A national survey shows 68% of Indians have #SARSCoV2 antibodies, compared to 25% in January and 1% last spring. That's why cases and deaths plunged so fast since May, even though few Indians are vaccinated.
2: Added bonus – INDIA can run multiple national randomized antibody surveys but the US can't manage even one? It's almost like the CDC doesn't want us to know real infection and recovery rates.
Overall the real science speaks.
The CDC just announced on July 21st that the CDC is recalling all PCR tests due to false positive rates of pcr tests that cannot tell the difference between a person having covid or infulenza.
From an earlier article this year, we have seen the stories of the 90% false positive rate but from the CDC statemant, this is now confirmed that we have been using faulty tests to determine how people will live thier lives and how a state will infringe on its citizens rights in the name of safety because thats what the science says.
Here is Dr. Andrew Kaufman Explaining the Delta Variant.
Now the Biden Administration is demanding that Americans mask up again.
From this chart you can see when most Americans were heavily vaccinated to the point where the Biden Administration suggested Americans need to start wearing masks again.
Along with this unbelievable circumstance of the new covid scare, the Department of Defense has issued that the federal government will now start to vaccinate federal employees.
Basically the laws of this land are null and you do not have rights over your own body.
From the DOJ website of the statement they put out, there was a glimpse of hope that you could've missed by only relying on the mainstream media fear porn to inform you what the DOJ can and cannot infringe upon.
Unfortunately, the chaos of Biden's Covid policy reflects the dysfunction and incompetence evident in the rest of his Administration. We are still free on paper and the rights of individuals do not go away during a plandemic. Americans should read into what the 9th and 10th amendment states as the federal government has taken the position to be the authority of what you will have placed in your body going forward.
It is your duty as an American to challenge and question everything the Government represents as true. We now have concrete evidence that Dr. Anthony Fauci has taken diametrically opposed positions without blinking an eye. Some call that "lying." The same with the CDC (as I pointed out in my last article). Perhaps the CDC should be renamed the Center for Disinformation & Confusion in light of the contradictory guidance issued regarding masks and vaccines.
Americans must pray and use the laws of this land that were made to protect you from tyranny. The time for sitting and waiting is over.